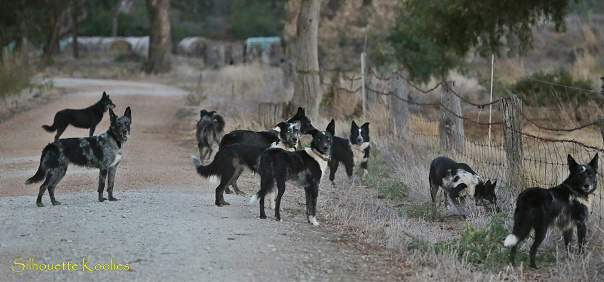 Welcome to Silhouette Koolies.
We have been lucky enough to have owned Koolies from 1987 and bred our first litter in 1989.
They are a big part of our lives and friends. They have worked along side us on our dairy farm and more recently while mixed farming. They have proven their desire to work and achieve in anyway they can to help us succeed. They are truly happy when you are happy. They have certainly saved us many miles of walking and many many hours of frustration working stock. Farming can be a lonely life working long hours day in day out and to have your Koolies there beside you attentive to everything you are doing, willing to get in and help is a huge moral support. We have farmed through one of the biggest droughts in Australian history and this moral support cannot be underestimated. We owe these guys a good long life and safe homes when we make them available to purchasers.
We don't take lightly the responsiblity of breeding and have on more than one occassion refused to sell. We ask purchasers to give us details on what their lifestyle is, what sort of interaction they will have and attempt to match a puppies personality to each person. We don't sell or breed for colour. We have had several people return to purchase again and have two people on their third dog from us.
Breeding is a big challenge, many people have an opinion on the best way to breed, but not many understand every breeders needs, abilities or the availability of breeding stock. Many factors have to be considered before going ahead with a mating. Building a line of dogs is years of work and focus, so non of it is taken lightly and everything is considered carefully.
We are proud to be founding members and committee members of the Koolie Club of Australia and can recommend membership highly as it puts you in touch with the people who understand your dog, your situation and your love of this special breed. For more information visit www.koolie.net.
Koolies are not for everyone, they are very intellegent, active, loving, routine loving working dogs. They are often not overly confident and need to form a good bond with their owner to be able to show the full potential of the personalities, forming this bond of trust is your biggest priority when purchasing a Koolie puppy anywher. Of course they need lots of mental and physical activities and unless you are prepared to put quality time into your Koolie don't even try as Koolies don't deserve to end up locked up in backyards alone or in pounds. If they don't get to be part of your life and spend time with you they will act out in frustration. It's not the dogs fault.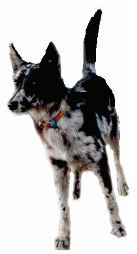 our history
Our first Koolie, Mindy was a very special dog to us (of course) and sold us on this breed for ever.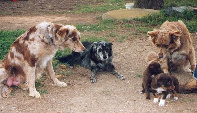 the family
We have always bred to the female line, for six generations now. See the family.